Malofiej24: The Awards
March 14, 2016
Last week I attended the 24th edition of the Malofiej Infographics World Summit in Pamplona, Spain. It was an incredible week: I met some really great people and as a member of the Awards jury I got inspired by seeing literally hundreds of illustrations and data visualizations, online and on paper.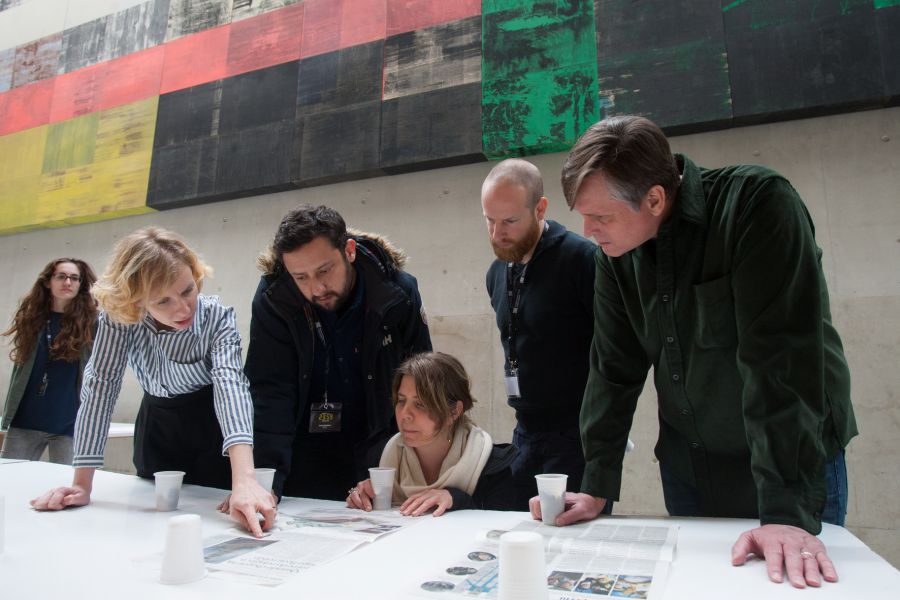 As you can see in this picture, I was part of the jury evaluating the paper entries of the competition. A great experience and I learned a lot from it, but as a mostly online journalist I was also very curious about the medals awarded in the online competition.
The official list of the awards was published as a pdf and is sorted by category. I sorted the list of the online medal winners by medal color (gold, silver and bronze) and grouped the medals by media. I think this is a little more convenient for browsing all the winners.
So here is the list:
Gold
Homan Square: a portrait of Chicago's detainees | The Guardian US
Gif by @lenagroeger
Blue whale: The Largest animal on Earth (Android app) | Fusion
You Draw It: How Family Income Predicts Children's College Chances | The New York Times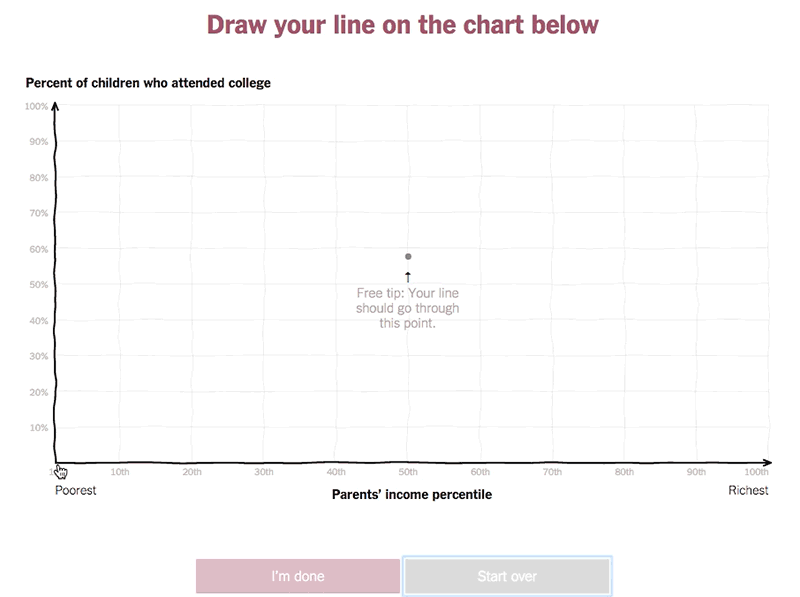 Gif by @lenagroeger
Silver
The Next to Die | The Marshall Project
How Syrians Are Dying | The New York Times
Investigating the Philadelphia Amtrak Train Derailment | The New York Times
How Missing Jet's Debris Could Have Floated to Réunion | The New York Times
A 3-D View of a Chart That Predicts The Economic Future: The Yield Curve | The New York Times
The Dawn Wall: El Capitan's Most Unwelcoming Route | The New York Times
The Climate Change Pledges Are In. Will They Fix Anything? | The New York Times
Breaking News Portfolio: Germanwings, Nepal quake, Paris attacks, Paris attacks manhunt, Amtrack crash, Nepal quake maps | The New York Times
Features Portfolio: You Draw It, Inside Raqqa, Syria deaths, Greenland melts, Syria war damage, El Capitan, Bieber, Diplo, Skrilex, Whithney Museum, Mass shooters guns | The New York Times
Personal Portfolio: Derek Watkins China's Coastal Cities, Arctic Ice, Himawari, South China Sea, Syria deaths, Greenland melts | The New York Times
What's Really Warming the World? | Bloomberg News
How measles spreads when kids get vaccinated – and when they don't | The Guardian US
Features Portfolio: UK election prediction, Swing the election, Prison reform, Womens World Cup, Madden, Carmelo, NFL History, Science isn't broken, Flights, Reddit ngram | FiveThirtyEight
The shape-shifting US income distribution | Financial Times
Bronze
Germanwings: The last minutes of Germanwings flight 4U9525 | The Guardian
How the Hajj Stampede Unfolded | The New York Times
What Happened on the Germanwings Flight | New York Times
Extent of the Damage From the Nepal Earthquake | The New York Times
Greenland Is Melting Away | The New York Times
Bieber, Diplo & Skrillex Make A Hit | The New York Times
Amtrak derailment | The Washington Post
Every death in Game of Thrones | The Washington Post
Flag Stories | ferdio
Courts Are Shaking Up House Elections in 2016 | Bloomberg News
This Is How Fast America Changes Its Mind | Bloomberg News
How to Catch a Spoofer | Bloomberg News
Star Wars: The Force Accounted | Bloomberg News
How China's economic slowdown could weigh on the rest… | The Guardian
A tortured heap of towers': the London skyline of tomorrow | The Guardian
Illegal Tusk Trade | National
Unaffordable country: Where can you afford to buy a house? | The Guardian
What China Has Been Building in the South China Sea | The New York Times
How ISIS Expands | The New York Times
How Missing Jet's Debris Could Have Floated to Réunion | The New York Times
A visual guide to 75 years of major refugee crises | The Washington Post
Scaling Everest | The Washington Post
Europe Deporting | Zeit Online
Failure Factories: Whey Pinellas County is th worst place in Florida to be black and go to public school | Tampa Bay Times
Rethinking Detroit | National Geographic
The New New York Skyline | National Geographic
Over 1,100 Health Data Breaches, but Few Fines | ProPublica
Moscow Marathon results -2015 | Data Laboratory
The Complete History Of The NFL | FiveThirtyEight
Which Flight Will Get You There Fastest? | FiveThirtyEight
Ceni's Free Kicks in 7 Steps | GloboEsporte.com
Tour de France: the climb of Alpe d'Huez | The Guardian
Wayne Rooney breaks Bobby Charlton's England goalscoring record | The Guardian
Workers' Comp Benefits: How Much is a Limb Worth? | ProPublica
Darren Sharper Facebook Video | ProPublica
Portfolio Breaking News: Nepal quake, Tianjin explosion, Germanwings, Hajj, Mozambique landmines, Paris attacks, Shoreham airshow crash, Dieselgate, Charleston shooting | The Guardian
Features Portfolio: Berliner Morgenpost Interactive Team | Berliner Morgenpost
Features Portfolio: Why Climate Change Is True | Bloomberg News